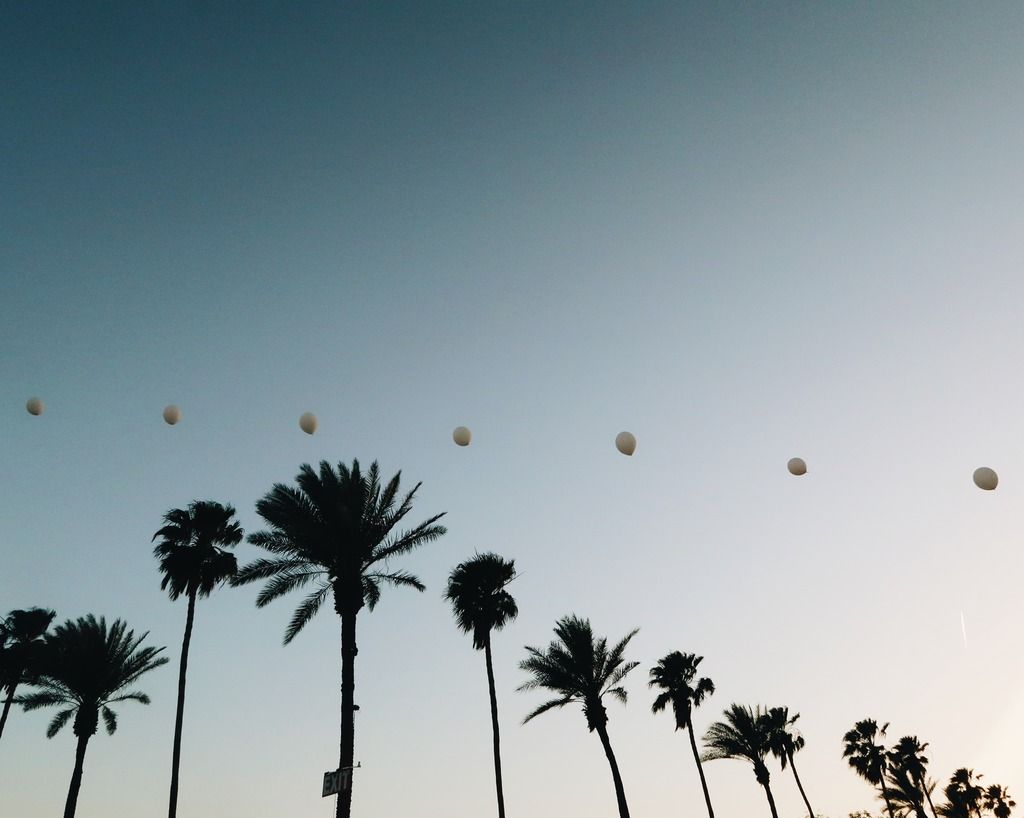 I can't believe Coachella 2017 has already come and gone. It crept up on us this year. Our lives were pretty hectic up until then so it was the perfect time to get lost in the desert and listen to some our favorite artists. Instead of camping this year, we stayed at an AirBnB in Rancho Mirage and shuttled over to and from the festival. Not camping was totally easier on our bodies (and souls) and I felt that even though we experienced less of Coachella, we were able to enjoy the parts that we were there for more. Here's a quick recap of our weekend!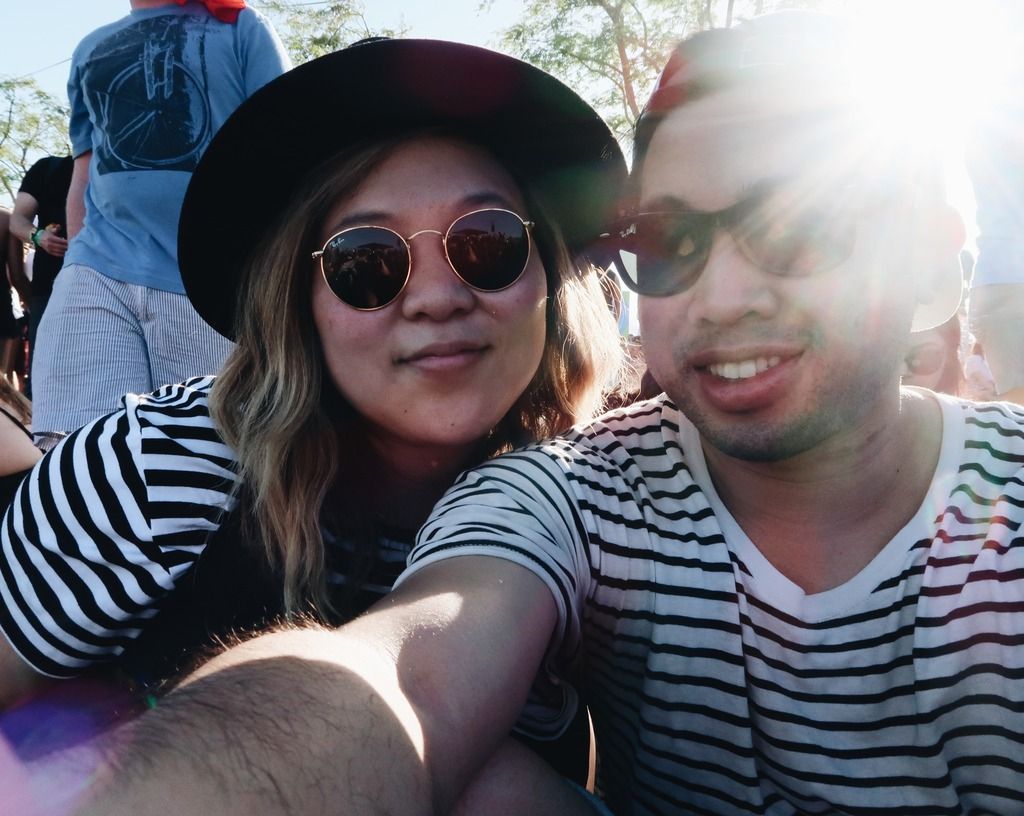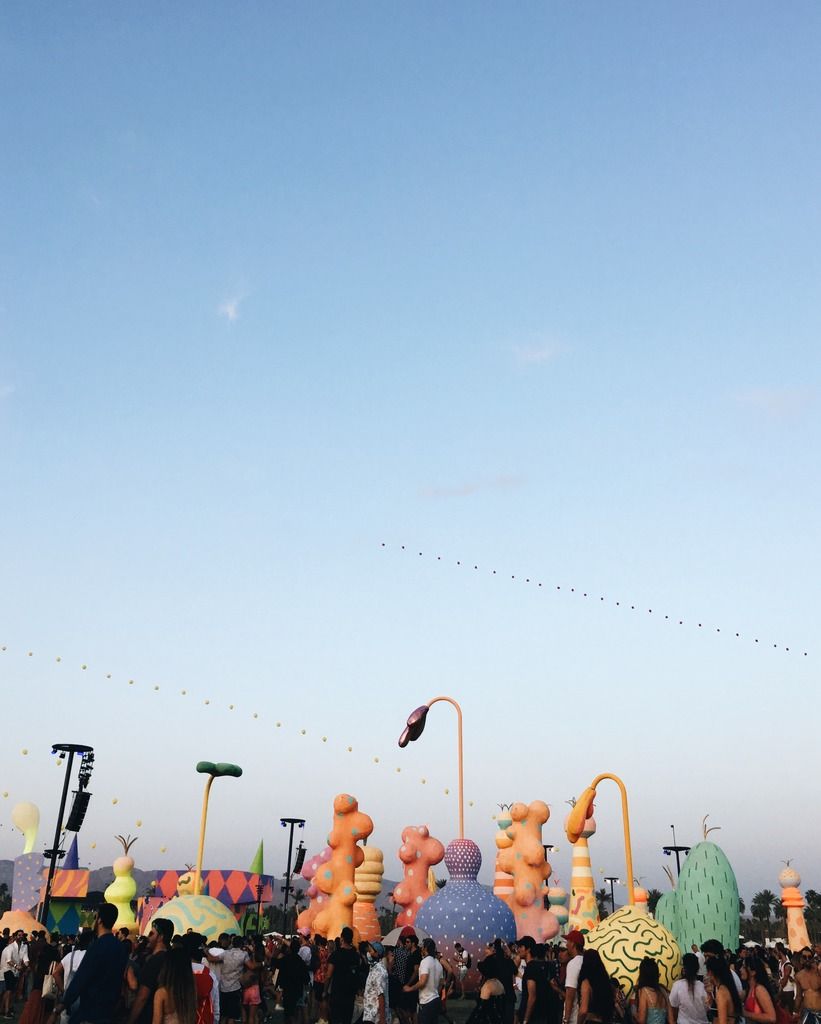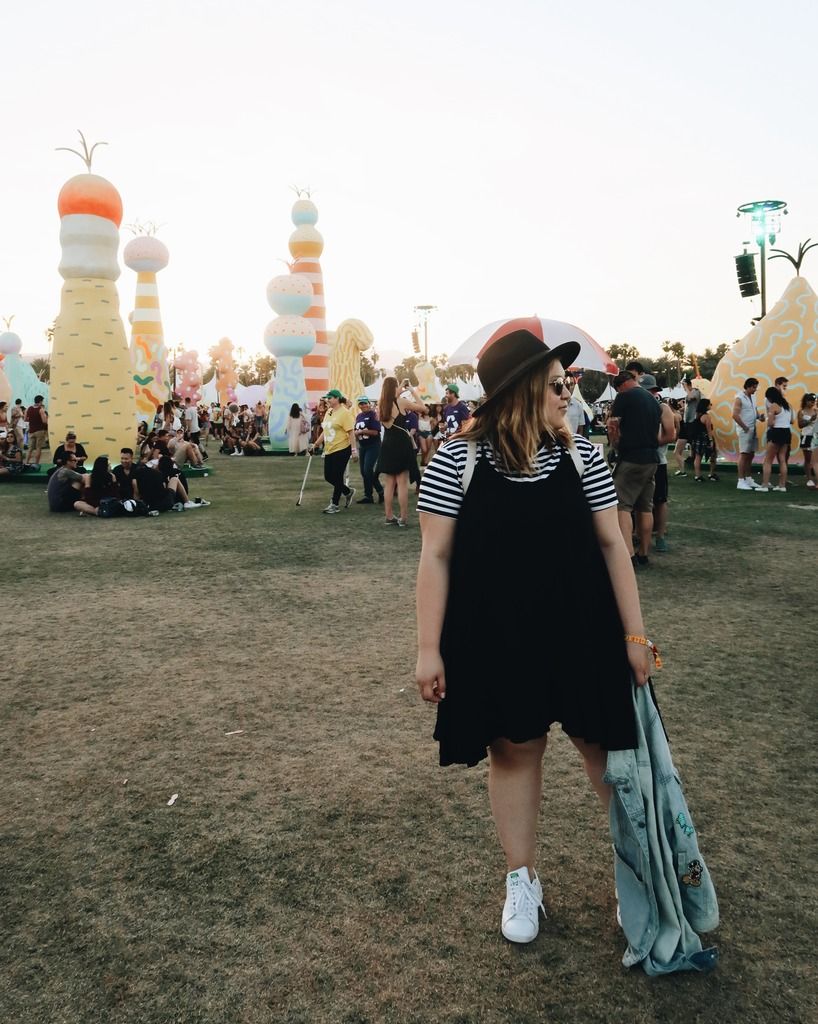 comme des garcons striped t-shirt, urban outfitters dress, adidas originals stan smiths, c/o equal uprise black traditional fedora, zara braided backpack, levis jacket with diy patches
- DAY ONE -

We hit the road around 10:30 A.M. It took quite a bit of time getting there seeing as how other Angelenos were on the road as well. We needed no excuse to fuel up at one of our favorite spots, California Fish Grill, in the Upland location on our way to the desert. Once we checked into our AirBnb, we quickly got ready and headed over to the shuttles. The shuttling system was so easy and so convenient! We were so lucky that a Ride & Park place, the Auga Caliente Casino, was only a few miles away from where we were staying. Once we got to the festival, we headed straight to the Outdoor Stage to listen to Mac Demarco, vibed out to Crystal Castles, bumped to Travis Scott, and ended the night with two favorites: Father John Misty and Radiohead. Radiohead didn't deserve all the glitches that happened during their set (the sound cut out on them at least three times!), but they were troopers nonetheless.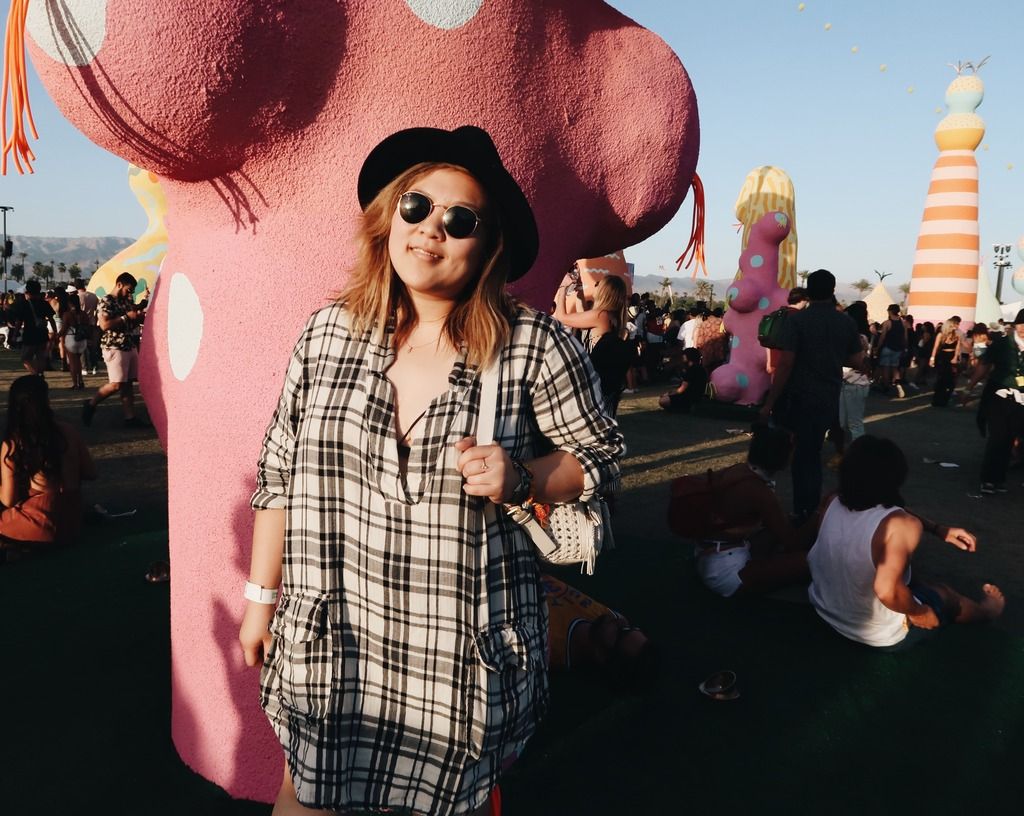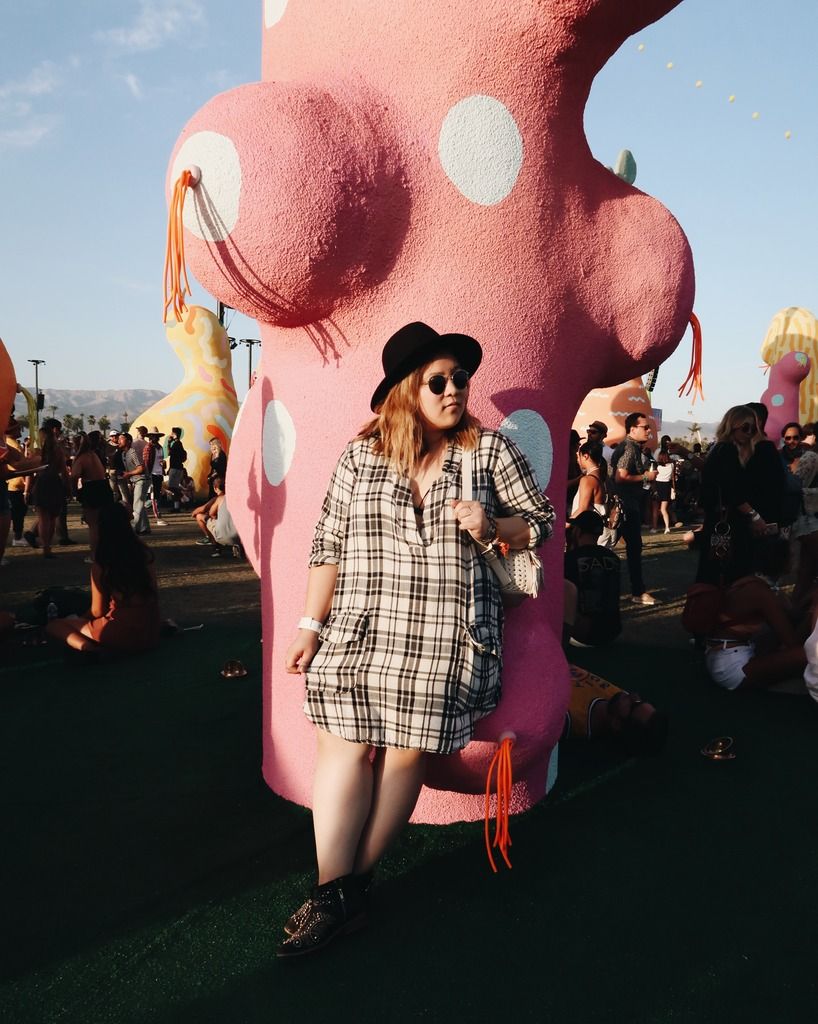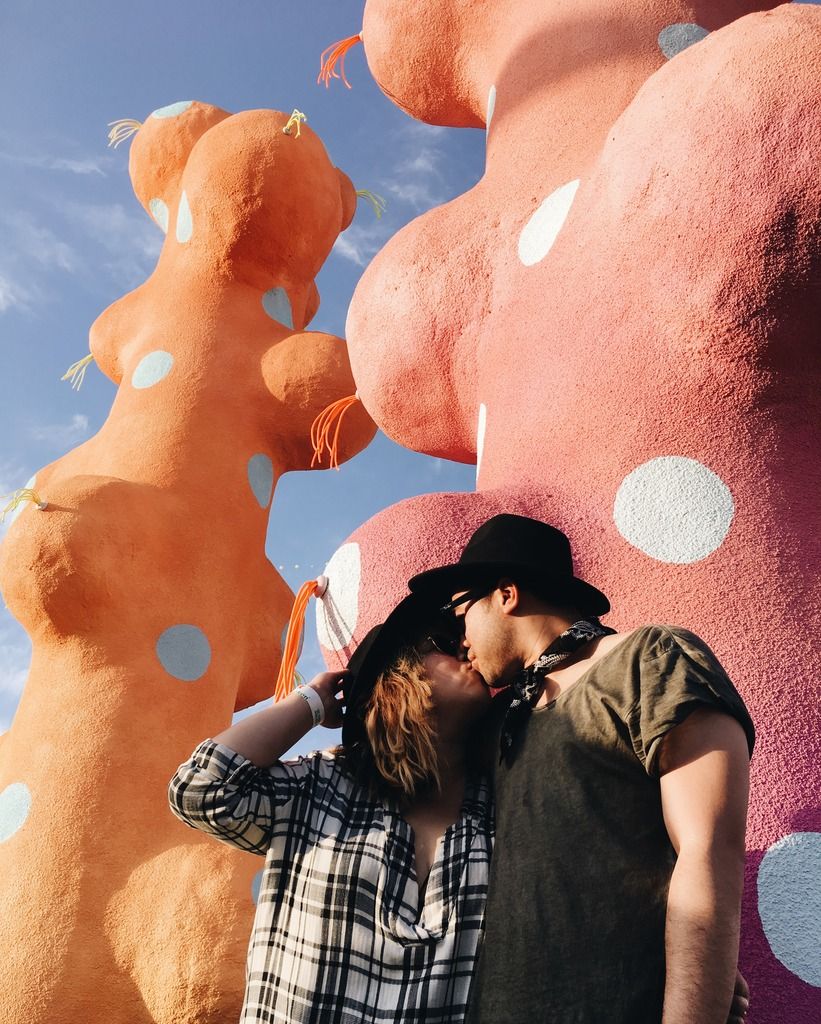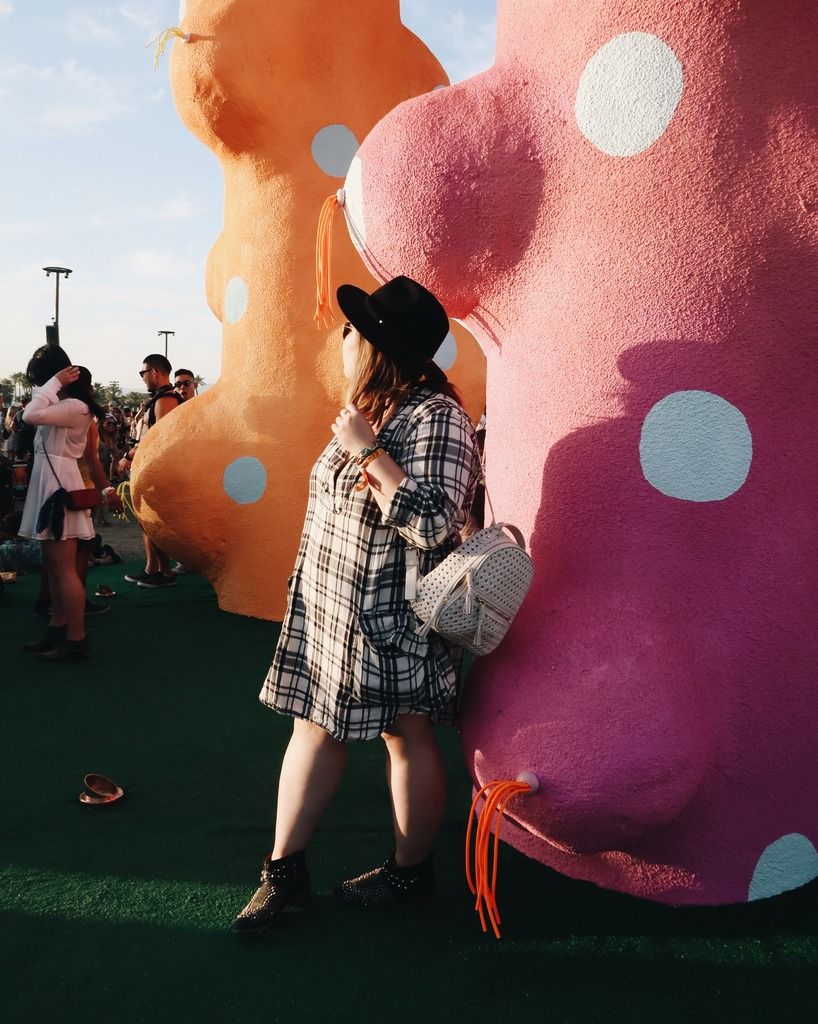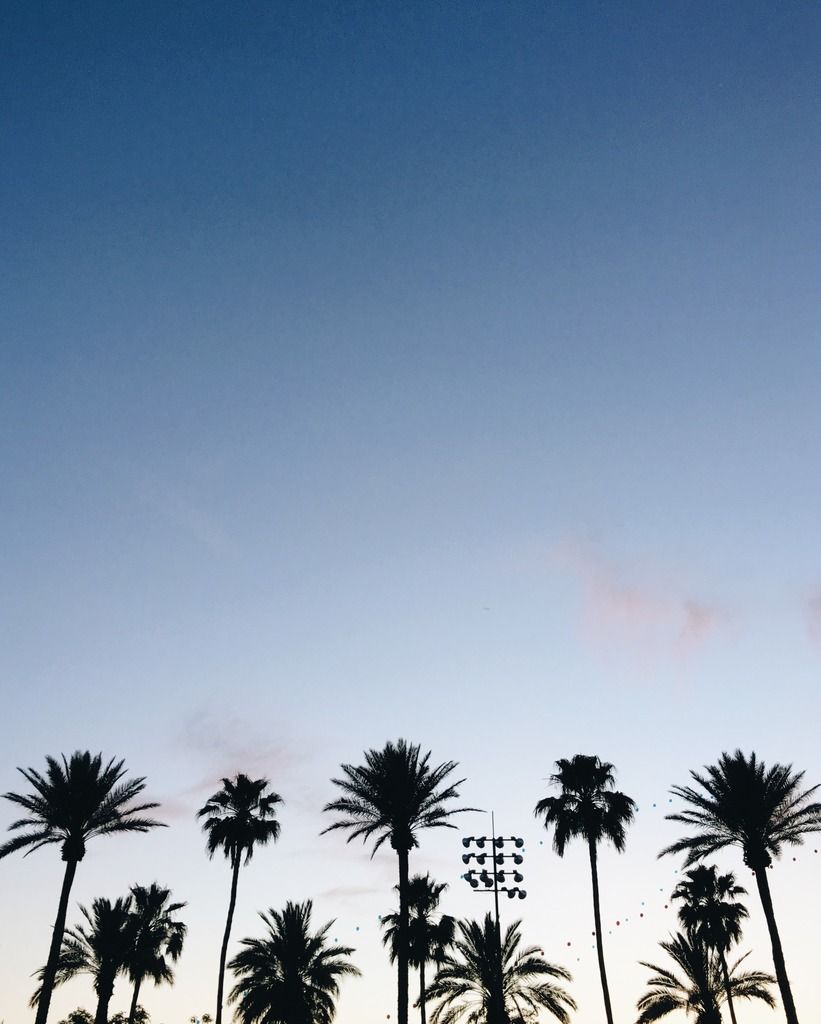 free people checkmate dress, c/o equal uprise black traditional fedora, zara braided backpack, topshop studded booties via crossroads trading
- DAY TWO -

We honestly weren't that excited about Day Two of Coachella--there weren't that many artists that we wanted to see. But the best thing about Coachella are the surprises that you get. The sunsets never disappoint while you're there. Before going to the festival, we grabbed food at the nearby Costco because we didn't want to pay the outrageous Coachella prices (I mean $6 for a churro? We could've gotten six of those at Costco!). Once we got to the festival, we headed to see the Antartic, which was such an awesome, immersive experience that we had to go back the next day to see it again. After snapping some photos at my favorite art exhibition, we met up with some friends at the Beer Garden and hung out there before seeing Future, Bon Iver (someone needs to take away his synthesizer), and ended the night with an amazing performance by Lady Gaga. She was so genuine on stage, incredibly humble and appreciative, and a talented performer. I think she's way better live than she is on the radio, and I can't say that about most artists these days. On our way out, Brandon spotted a neck scarf on the floor. I recognized it as Madewell, and he picked it up for me. I wore it the next day! What a score!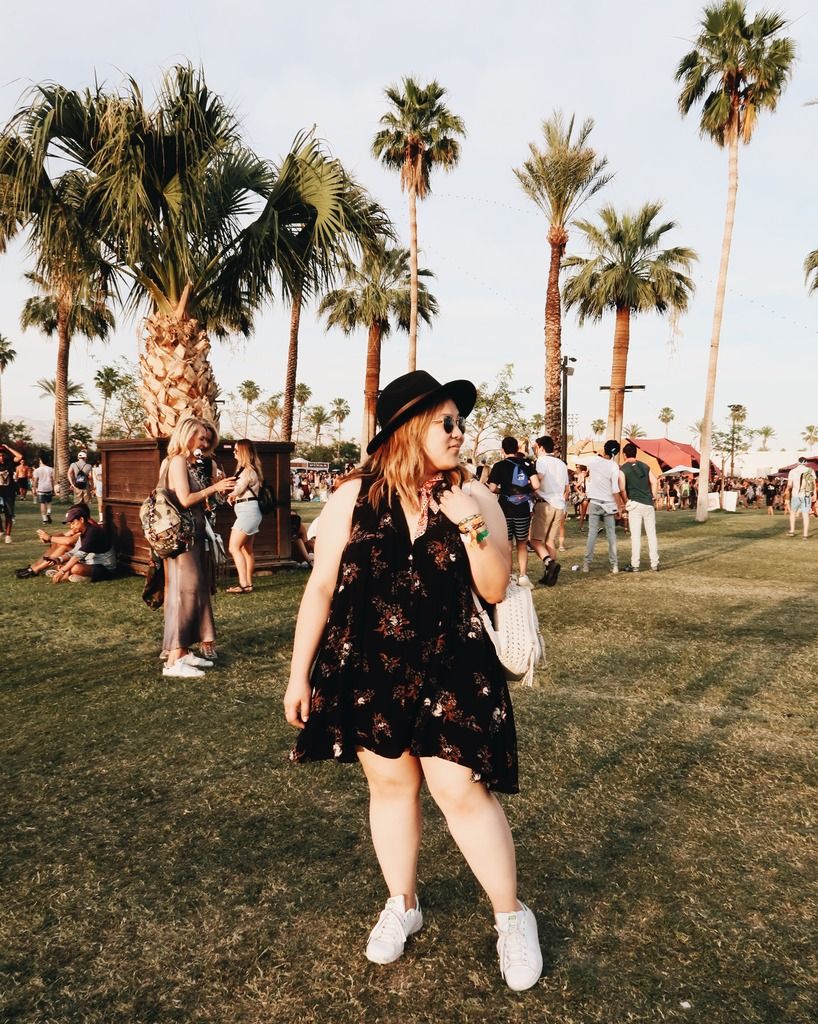 free people dress, adidas originals stan smiths, madewell neck scarf, c/o equal uprise black traditional fedora, zara braided backpack


- DAY THREE -
The last day of Coachella was pretty chill. In the morning, we went to go see a Desert X exhibition (post coming soon!) and grabbed some vermicelli before heading over to the festival. We had an epic moment with Hans Zimmer when he played the opening score of Lion King (my inner Disney fangirl was squealing so hard), sang along to Lorde's hits, danced to Justice, and heard some of Kendrick Lamar before saying goodbye to Coachella 2017.

It was an incredible year and I know that we're already looking forward to the next one.

Watch our VLOG down below if you want to see more from the festival!