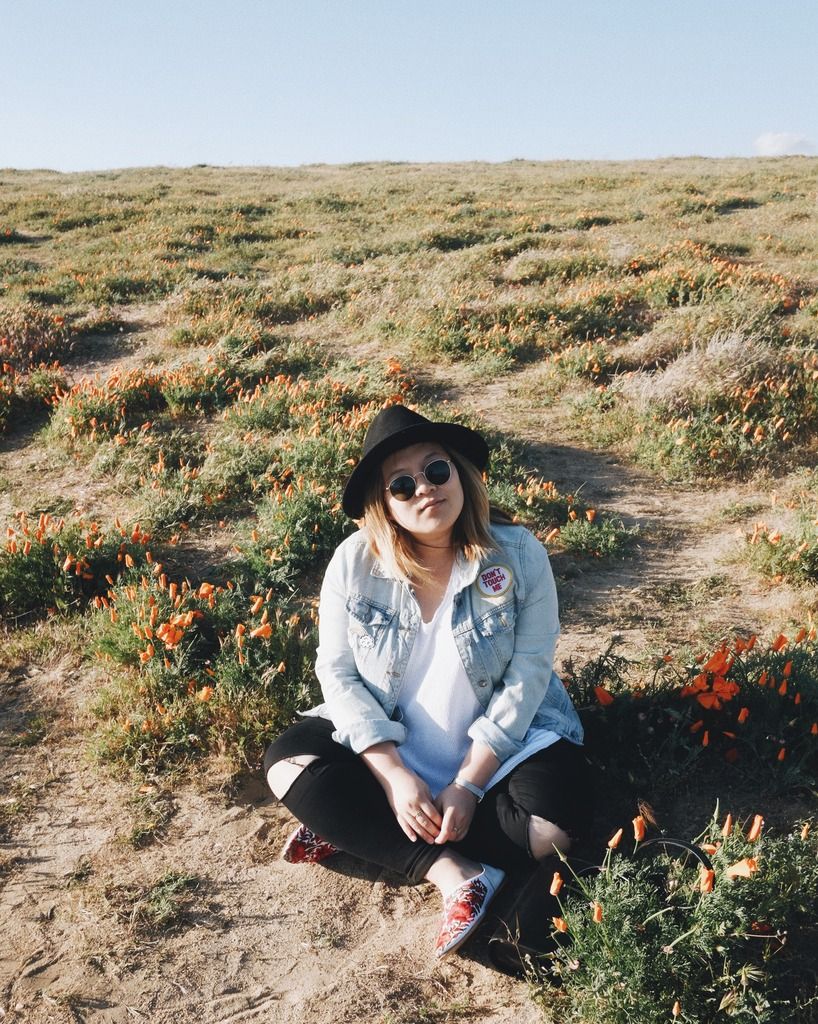 A lot of things in my life are compartmentalized: items in my closet (by color, type, and sleeve length), my work life, my personal life, my interests, my friends, files in my hard drive, the food on my plate, etc. It's how I make sense of things—everything and everyone needs a place, a category where they belong. It brings me a sense of security, peace, and satisfaction knowing where things and people are, their purpose, and where to find them if I need them.
I remember in the early days of our relationship, Brandon was amazed how I was able to keep everything so separate. But as a professional creative, he didn't have to. On Monday-Friday, I was a second grade teacher, a Starbucks addict, a hometown friend, a daughter, and a sister. On Saturday & Sunday, I was a girlfriend, a creative, a hat wearer, a fancy coffee consumer, a chaser of sunsets, and an explorer of alleyways. For some reason, that's the way it had to be for me to maintain and exercise all the parts of me. The thought of merging those two worlds felt nonsensical, pointless, and counterproductive. I longed for a life where I didn't have to be only one version of myself at a time. I just wanted to be me. I longed for friends who were creative and shared my love for traveling and stopping at random places along the way to our destination to take photos. I also longed for friends who understood and appreciated my passion for my work. I longed for a place where I belonged.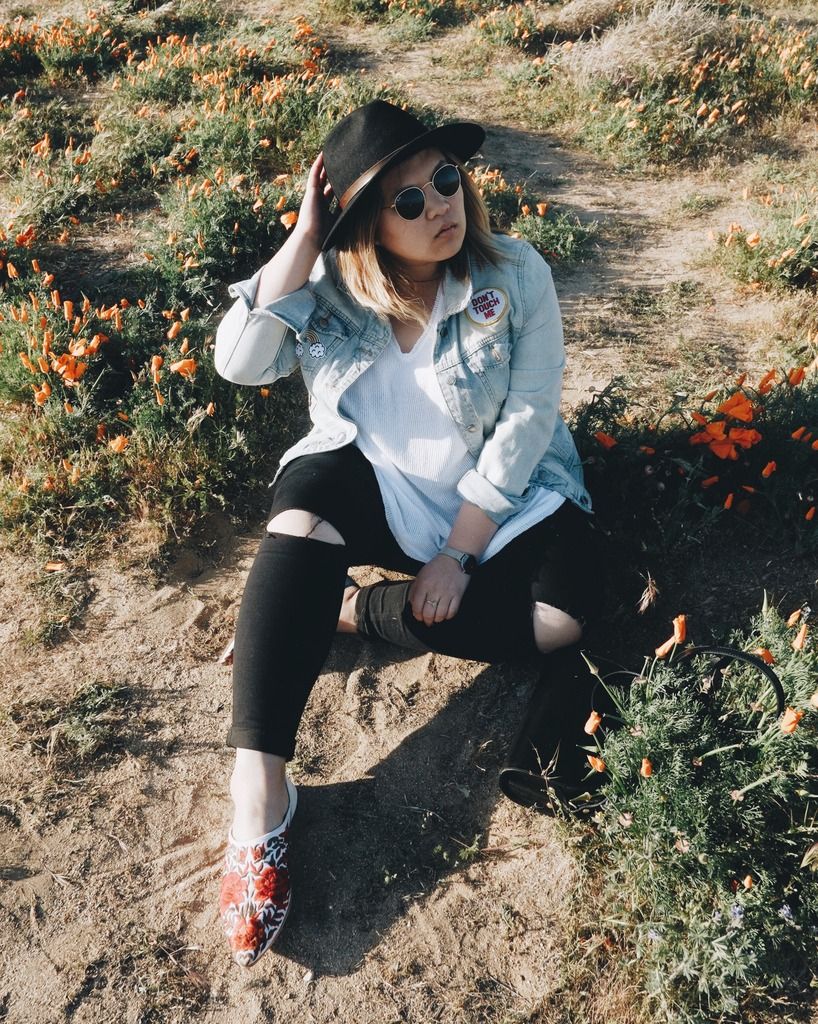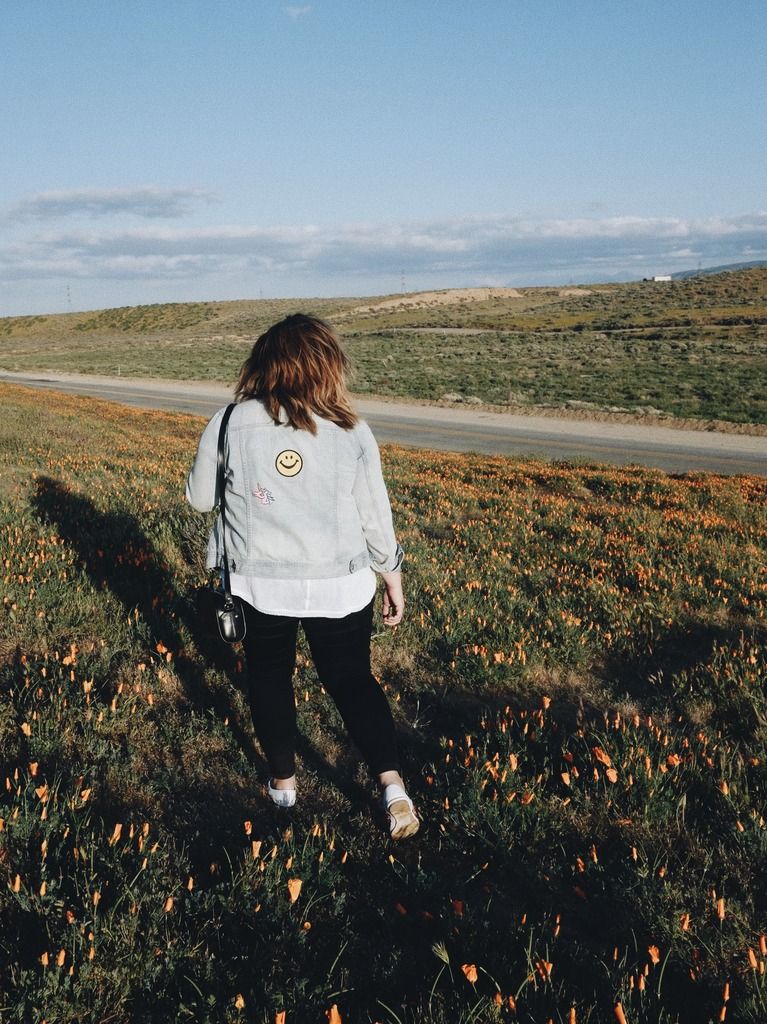 target jacket with diy patches, urban outfitters waffle t-shirt, tophshop moto joni jeans, jeffrey campbell cava flat, apc black half moon bag, raybans round sunglasses
It's been almost two years since I've moved to LA—the land of people working on a side project while working a normal job. I thought in that land, my two worlds would easily meld together. Even so, everything is still so separate. On Monday-Friday, I'm a third grade teacher at an arts school in Los Feliz. Every morning, I go to the Starbucks that is less than a mile away from my apartment. I order a half-sweetened coffee, no milk. Sometimes, I'll add a butter croissant. The baristas know me by drink and by name. I have my 25 students, my 3 teammates, and my work friends. I never bring work home in my feeble efforts to maintain a "work-life balance". When I come home, I am no longer Ms. Hwang, I'm Jasmine—the queen of Trader Joes frozen foods, the couch potato, and the binger of Netflix. I can also be the tired friend who must really love you to have dinner with you on a weekday. On the weekends, I am Jasmine from Jasmine & Brandon of @betheplebeian. This Jasmine only goes to cute coffee shops (for the 'gram of course) and sometimes hangs out with cool creatives she has befriended since moving here. This Jasmine sometimes wears cute outfits and finds cool places to shoot at. She writes occasionally and takes pretty pictures. All of these Jasmines have become quite the hat-wearer, literally and metaphorically. And quite frankly, they're, no, I'm exhausted.
As I've written before, creativity is a quality I'm constantly developing. It is an energy I'm always seeking to use up and make more of; and a lifestyle I want to uphold. It is creativity that drew me to teaching. It is creativity that drives me to take pictures and to write. I used to think, and sometimes still do, that these were two different types of creativity. But I think creativity is non-discriminatory, and is up for grabs for those who choose to feed on it. It fuels my everyday—no matter which 'hat' I'm wearing. It's the only constant in all the different versions of me I put out there in the world.
I remember when I started to meet up with fellow creatives for the first time. I was nervous, knowing that the question of "What do you do?" would come up. I dreaded it for I was ashamed that I was a teacher. It was neither cool nor creative. I thought I would be judged to be less creative once people found out what I really did. I started resenting my job and how boring and horribly traditional it seemed. I then gave everything to our Instagram—well at least, the time that Ms. Hwang allowed. I was going to will it: I was going to be a creative (whatever that meant) somehow. I fantasized about being a full-time blogger, of traveling constantly, of being sent free clothes, and going to pretty parties with pretty people. This is where I thought I would belong, but...When I would hang out with creatives, I would regret my decision to go to graduate school to become a teacher. I would question my passion for education. I would think I took the easy way out with being traditional. I would think that I'm not a true artist because I wasn't starving for my art. I would also think I was a failure because I couldn't make blogging a full-time job like the others have. This group of fashion bloggers is clearly not where I belong.
I, however, am far from being the traditional teacher. I am a confident teacher, who knows I'm good at what I do, but am still eager to learn more and improve my craft. I connect with my students personally, and really get to know each other strengths, goals, and needs. The classroom is a democracy—no decision is made without my students. I believe that social-emotional development is just as important as academic knowledge. I also believe that the arts are just as important as and can be the gateway to social-emotional development and academic learning. I know that students construct their own knowledge through meaningful experiences, and it is my job to construct those experiences rather than dictate what they learn. I believe that process is just as, if not more, important than the product. I try everyday to cultivate a classroom founded on respect, community, love, and multiple perspectives. I learn just as much from them, as I hope they learn from me. I am patient and perseverant with their growth. I am neither traditional nor boring.
It wasn't until I went to a class for teachers at the LACMA a few weeks ago that all the puzzle pieces of me started to come together. There, the focus was to integrate the idea of art as a call for social justice into the classroom. These workshops resonated deeply within me, as a teacher and as a creative. These ideas of making purposeful of art and having responsibility as an artist brought a purpose to my teachings where right now we are exploring the themes of belonging and of diversity. It also made me question the purpose of my own art: What was I using my gifts for? Why was I posting on Instagram? Does my art contribute to society? As I sat there, drawing a self-portrait inspired by Edward Biberman's "I Had A Dream" painting, I contemplated the question that was just posed to me: What community do you want to represent that you're apart of? I watched as others around me quickly and eagerly got to drawing. The man across of me was a surfer, the girl next to him was an Angeleno. I, on the other hand, felt conflicted and pulled—all of the different hats tugging me every which way. In the end, I decided to represent me as an educator because that hat was the loudest at that moment.
This conflict of choosing a community left me unsettled on the drive home from the workshops. I didn't feel like I truly belonged in any of the communities I had considered: I was only an educator M-F, and I was only a creative on the weekends. Earlier that week, I had a discussion with my students about the difference between belonging and fitting in. A point was made that everyone is seeking to find a place and a group they belong to. During that search, everyone's just trying to fit in—trying on different interests, roles, personalities—until they don't have to try anymore. Until they've found peace and harmony with who they are and the people they're with. My students also offered that when you feel like you belong, you are accepted for who you are: strengths, flaws, and all; and you are at a place where you can grow and learn. They also realized that first you need to know who you are—your strengths, your weaknesses, your contributions—before you can truly belong to a community.
I may spend my whole lifetime looking for a group of constructivist teachers who also blog about travel and fashion to join; but at the same time, I should stop looking. The beauty of humanity is that we're all unique and have different gifts to offer. Diverse communities are constantly being formed; and they not founded upon similar interests and qualities of people, but rather a shared value system. I am going to contribute to all the communities that I feel a part of: education, Instagram, LA. But first…I am going to stop hiding and containing parts of myself. I am going to let all parts of me bleed into all parts of my life. I am going to let my love for photography and traveling infect my students with the same curiosity and appreciation for the world. I am going to be just as patient, gentle, and unrelenting with my own growth, and the growth of those around me. I am going to actively listen to others' ideas and actively notice the details in the world, as I teach my students to do. It is only with these actions that I can truly grow as a person, and therefore as an artist.
I am Jasmine: Among many things, I am a teacher, a creative, a serious coffee addict, a world explorer, a writer, a photographer, a girlfriend, a daughter, a sister, a Trader Joes regular, a chaser of sunsets, a friend who is better one-on-one, and a Disneyland expert. I'm just a girl who is working hard to find and carve out a place in the world where she and all her isms belong. That last "and" is such a powerful word. It connects rather than separates. I no longer will have to choose one part of me or another. I am all my "ands" put together. I am whole. I am me.